The Ministry of Health has announced that all passengers from South African countries must undergo quarantine after arriving in Kenya.
In a statement dated Friday, November 26, the acting Director General for Health, Patrick Amoth, stated that the travellers must also undergo repeated testing on entry following the emergence of a new Covid-19 variant.
Further, the Ministry of Health urged all county governments in the country to prepare their health facilities to handle the new B.1.1.529 Covid-19 variant.
Dr Amoth stated that the government was keenly monitoring the situation and will provide further advisory as more information is made available.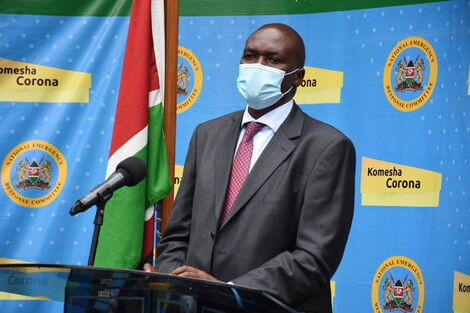 Health acting Director General Patrick Amoth
FILE
"Whilst passenger traffic may not be as significant from neighbouring Namibia, Lesotho, Botswana, Eswatini and Zimbabwe, enhanced surveillance protocols like quarantine and repeat testing will be applied to all passengers from all countries reporting the new variant," Dr Amoth stated.
"Our National Public Health Emergency Operation Centre is still fully activated to facilitate coordination of response to the pandemic. Stand-by trained Rapid Response Teams at both national, county and sub-county levels are on high alert for immediate investigative deployment."
Dr Amoth noted that the country is on high alert and urged all Kenyans to be fully vaccinated given the now abundant supply of vaccines.
All points of entry in Kenya will conduct rigorous screening of all arriving passengers.
Travellers coming into Kenya must be in possession of a negative Covid-19 PCR test taken 96 hours before their arrival.
Kenyans, whether vaccinated or not, were urged to continue adhering to the public health social measures - masks, social distancing, and hand washing.
This comes after researchers from the UK stated that they had discovered the B.1.1.529 Covid-19 variant from South African countries.
According to experts, the new variant is the most significant one they have encountered to date and urgent research is underway to learn more about it.
Africa Centres for Disease Control stated that the new COVID-19 variant detected in South Africa has a high number of mutations which raised concerns among scientists and triggered travel restrictions by a number of countries amid fears of coronavirus transmissions.